The Beautiful Game. Joga Bonito. Copa Mundial. Brazuca.
Ole Ole Ole
vs
La La La
. Fuleco - will be some of the terms in everyday parlance over the next month filled with sleepless nights.
There is a certain charm associated with the FIFA World Cup which probably no other sporting event bar the Olympics has. And it has a special attraction to the Indian sports fan too. India has never played in World Cup Finals and doesn't come close to qualifying for even the later stages of the Asian Qualifiers. Anyway, we as a nation are better at watching sports than playing any (with the exception of cricket).
So every 4 years, without being burdened by any sense of false patriotism, we adopt a team as our own. Most of us become Brazilians or Argentines, a few are Germans, and lesser numbers become Spaniards and Portugese. There maybe a few Dutch and English too lurking amongst us. But till date haven't come across any supporter of our fellow Asian or African teams.Though once the group stage is over any underdog still remaining standing gets our whole-hearted support (excepting when the underdog is playing against us i.e. Argentina/Brazil/Germany/Spain).
As for me, always been a die-hard Argentina supporter (or at least since 1990 when I became aware of the existence of an event called World Cup football). Argentina were the defending champions and were lead by the legendary figure of Diego Maradona - a genius and yet the most flawed one ever. Enough reason to declare cent percent support to the men in White and Sky Blue. That year's bumpy journey ended via a penalty against the West Germans in the final. Since then its been a heart-breaking journey for any Argentina fan, not even making semis in five attempts. But my support loyalty to them has remained unwavered.
Inspite of the heartbreaks, and there have been many, there has been a certain thrill from supporting Argentina every time. The likes of Batistuta, Cannigia, Crepso, Sorin et al have always threatened to light up the tournament and take home the trophy yet somehow have never delivered. They have always given samples like this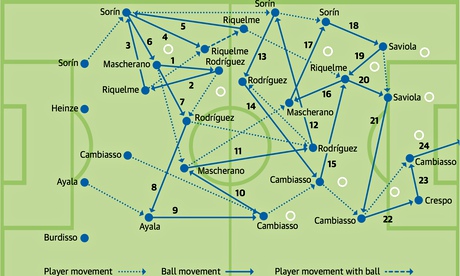 The greatest team goal in the history of the tournament against Serbia & Montenegro in 2006 (
Video
)
Argentina are certainly amongst the strongest contenders for the championships just behind the hosts Brazil. And Lionel Messi would certainly want to etch his name amongst the footballing Gods with a victory. The squad has the deadliest attack force (as always) in Messi, Higuain & Aguero though weaker in defence (again as always). They certainly have the strength to carry them from a relatively easy group into the knock-outs from whereon it becomes a matter of performing on the 4 key days. Which this squad is certainly capable of.
Well, as always hoping for the success of the La Albiceleste. Although if they do lose there is always this song to take solace in (or cry along to) for all the fans.

Although given that after God even the Pope is now an Argentine, there is no reason for Argentina not to win.